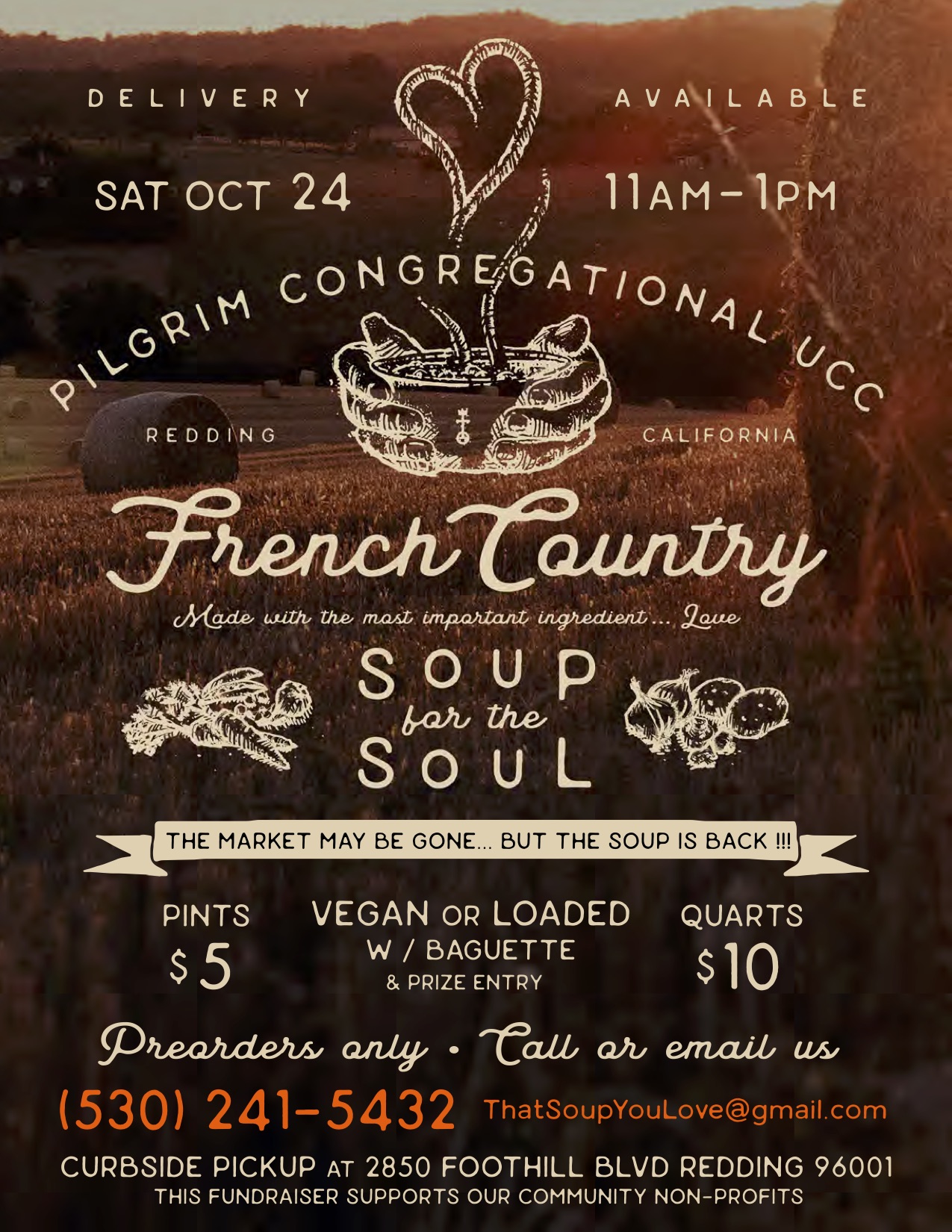 Order by Sunday October 18th by emailing or calling us: ThatSoupYouLove@gmail.com or 530-241-5432

$5 for pints with 1 door prize ticket
$10 for quarts with 2 door prize tickets

Vegan or Loaded | Frozen or chilled | All orders come with baguettes.

You can pick-up your order on Saturday October 24th 11am-1pm at:
Pilgrim Congregational Church curbside: 2850 Foothill Blvd, Redding.
We also have delivery available. 

Do you love Pastor Allen as much as we do? Here's a YouTube of him talking "soup" https://www.youtube.com/watch?v=zTm1LOr3tg8

Our Door Prizes are:
a $50 gift card to Enjoy the store https://enjoy-the-store-616674.shoplightspeed.com/or
a pair of men's work boots from www.qltyobjective.com ($130 retail value)

Our fundraiser supports local community non-profits:
Covid Promise:
French country soup for the soul is a drive-thru event that takes place outdoors, with space for social distancing. Our food has been prepared with the guidance of the local health department and meets all food handling safety requirements in addition to being prepared following CDC covid protocols. All volunteers will be masked at all times and follow appropriate covid safety practices in compliance with local and state guidelines.
The secret ingredients, aka Allergy info: If, after reading below, you have additional allergen questions, please email us at ThatSoupYouLove@gmail.com
Beans – black, navy, red, pinto, lima, garbanzo
Peas – Black-eyed, split
Lentils
Barley
Salt
Bay Leaves
Thyme
Cayenne Pepper
Garlic
Onions
Tomato
Celery
Red Bell Pepper
Green Onions
Chicken
Smoked Sausage
Ham
Chicken Broth
** Our Vegan version has all of the above minus meat products, substitute vegetable broth.